Monday Notes: Kamala visits Ghana, Lebron James, Luka and Kyrie, Chuck D and more...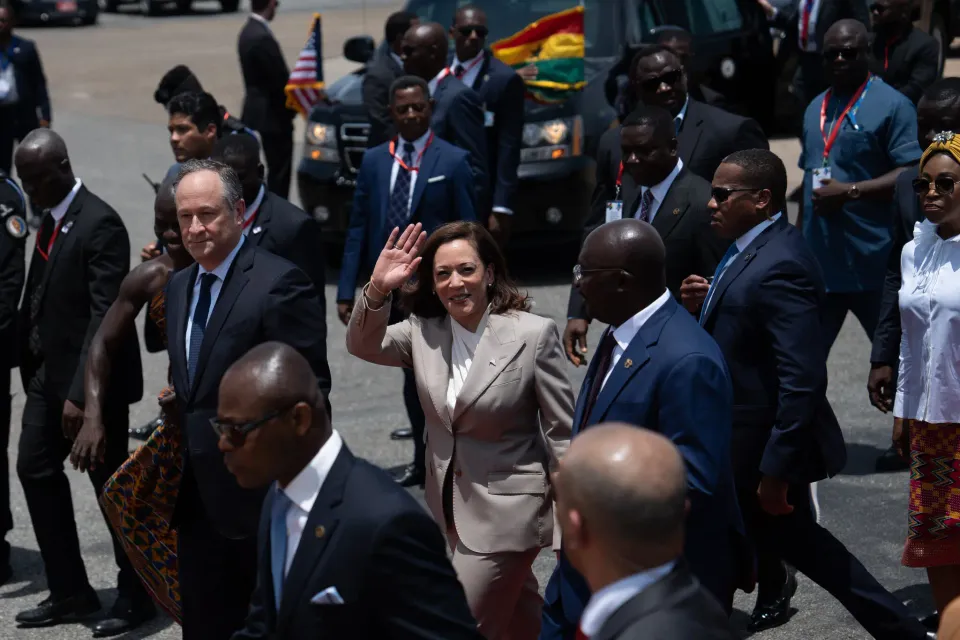 📓
Today's roundup features Kamala Harris in Africa as the US is looking to strengthen relationships as China's influence grows. LeBron James' "I Promise School" in Akron expands to include housing, job training, and healthcare. The Dallas Mavericks may consider tanking due to the disappointing performances of Luka Doncic and Kyrie Irving.
Ghana: In Africa, Kamala Harris Looks to Deepen Relations Amid China's Influence
In a weeklong trip to Ghana, Tanzania and Zambia, the vice president will face a balancing act as she tries to foster a collaborative U.S. relationship.
---
LeBron James' promise to Akron gets more ambitious His I Promise School now includes housing, job training and health care
When LeBron James was in grade school, he wondered why the maps in his classrooms showed Cleveland, Cincinnati and Columbus, but not Akron. Now, 20 years into his NBA career, James is building a whole world in his hometown 40 minutes south of Cleveland, an audacious community revitalization project rooted in education while encompassing everything from housing and health care to job training and a laundry.
---
Sports: The Luka-Kyrie Disaster May Force the Dallas Mavericks to Tank
Dallas has completely fallen apart after going all in for Irving at the deadline. Just how bad have things gotten? It might be time for the Mavs to cut their losses and try to salvage the future.
---
Technology: Twitter says source code was leaked on GitHub, now it's trying to find the culprit
Parts of Twitter's source code were recently leaked online via GitHub, theNew York Times reports, but were taken down after the social media platform filed a DMCA request. The request, which GitHub has published online, notes that the leaked information included "proprietary source code for Twitter's platform and internal tools."
Related: Elon Musk reportedly halves Twitter's valuation in internal memo
---
Finance x Technology: First Citizens to acquire failed Silicon Valley Bank
First Citizens has agreed to buy Silicon Valley Bank, the California lender that served as lifeblood to thousands of startups before its collapse sent shockwaves through the financial sector, the U.S. Federal Deposit Insurance Corporation said on Monday. The failure of Silicon Valley Bank is estimated to incur a loss of about $20 billion to the Deposit Insurance Fund, the regulator said.
---
Premier League: Tottenham's Conte leaves club by mutual consent
Related: Daniel Levy's decisions deserve greater scrutiny after Antonio Conte leaves Totttenham Hotspur
---
NFL: NFL owners will vote on allowing in-stadium sports books to stay open on game days
---
Music: What is Alté: How Nigeria's most prominent alternative community continues to thrive
If you were an even mildly internet-savvy and culturally-aware teen or twenty-something growing up in Lagos back in 2016-17, then you more than likely remember the advent of the alté scene. Through the colourful words of frontrunners such as Cruel Santino, Odunsi (The Engine), DRB, and more, a vibrant and exciting cultural movement quickly captured  the minds of young people across Nigeria. The subculture represented left-field styles of thinking through music, fashion, politics, tech and the arts. Alté started as a rebellious response to a traditional way of thinking, but it was most popularised by its genreless sound. And although now a globally-acknowledged movement, its origins are more multi-layered than many would assume.
---
Music: Q&A: Chuck D talks rap's rise through 'Fight the Power' doc
Hip-hop became a cultural phenomenon against the backdrop of American history, and now Public Enemy's Chuck D has committed himself to explore the artform's origins.
Chuck D rounded up several rap greats — including Ice-T, Run DMC and MC Lyte — who offered their firsthand accounts ahead of this year's 50th anniversary of hip-hop. Their reflections are explored in the four-part docuseries "Fight the Power: How Hip Hop Changed the World," that aired on PBS and is available to stream on its platforms and YouTube with a premium subscription.