Release Day: KAYTRAMINÉ, Joeboy, Summer Walker, NxWorries, Anderson .Paak, Knxwledge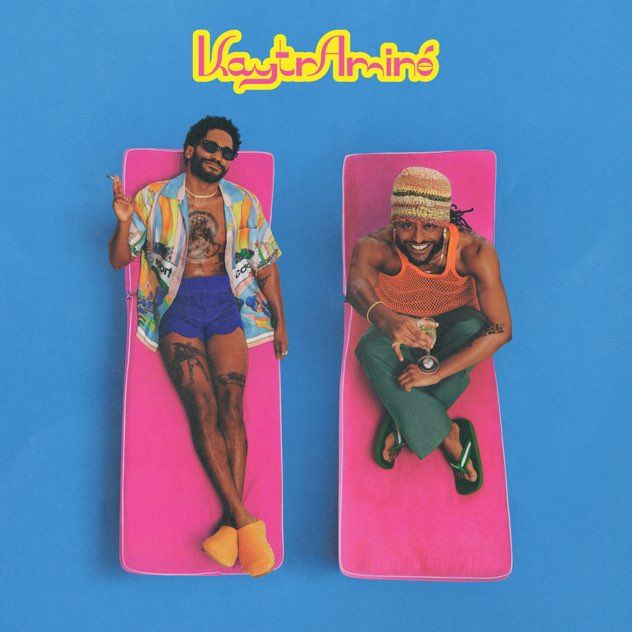 Joeboy: Body & Soul
There are few hitmakers of Joeboy's ilk anywhere in the world. Since capturing the Nigerian mainstream's attention with 2019's "Baby," the singer born Joseph Akinwale has mined the depths and intricacies of romance and love for his Afropop bops. Joeboy's tender yet keen interrogation of love found broader expression on his 2021 debut album, Somewhere Between Beauty & Magic. The album solidified his status as one of his generation's leading lights thanks to his hypnotic vocals and semi-autobiographical musings on fame, affection, and self-perception.
The two years between Somewhere Between Beauty & Magic and his much-anticipated sophomore album, 2023's Body & Soul, have seen the singer grow and refine his music into a more rounded outlook on his experiences with attraction and romance. "Body & Soul is my state of mind," he tells Apple Music. "It contains the topics I want to speak about. It's a more vulnerable project and has a darker side. SBBM was really just good vibes all through. Body & Soul has a bit of darkness, which I feel is more realistic. Because there will always be good and bad. There'll always be pros and cons."
In many ways, Body & Soul is a synthesis of his loving worldview as well as the pressures and pleasures of operating at the peak of Afropop. "The idea for this album is just that you can actually be yourself and you don't have to be perfect," he explains. "All you need to do is be yourself and focus on being a better version of yourself." Read on as Joeboy takes us through key tracks from Body & Soul.
"Normally" (feat. BNXN fka Buju & ODUMODUBLVCK)
"'Normally' talks about the kind of person I am. I don't like stress and I don't like drama. It doesn't mean I won't go through it if I need to, but it's something that I would definitely avoid. So it's just about me being a stress-free person, always focusing on the positives, and doing my thing—also stating the fact that I'm a special person. Big shout-out to BNXN and ODUMODU on that song because everybody just came together and the synergy was one hundred."
"Body & Soul"
"I recorded this song sometime last year. It's so funny because it wasn't really a song that was supposed to be put out. People kept saying that it brought out an emotion in me and them. 'Body & Soul' was produced by E Kelly. Big shout-out to him, he was one of the first producers I worked with in my professional career. He really mentored me when it came to producing commercial records. 'Body & Soul' is a song about assurance—not the romantic kind of assurance or love. It's just about being there for your people in general."
"Check My Phone"
"'Check My Phone' is a seemingly sarcastic and toxic song. You know the idea of couples checking each other's phones sometimes? If they know your password, they will check your phone for something at some point. The storyline behind this song is like, 'OK, you can check my phone but you're still not going to see what you're looking for. And even if you do, I'll apologise and give you money.' This song was produced by Tytanium and Dëra."
"Lose Ya"
"'Lose Ya' is a continuation of the story from 'Check My Phone.' After they've seen what they're not supposed to see, I'm telling them that I don't want to lose them. It sits perfectly on the album, the instrumental, the sound, and everything is just smooth."
"Duffel Bag"
"Most women will say, 'As long as he loves me, I'm fine.' But I disagree, everybody loves money and being spent on in addition to being loved. With 'Duffel Bag,' I'm saying, 'If you love your woman, spend. Throw that money.' The idea is also covering different kinds of men because women are always like, 'I want a man that's rich, tall, and doesn't cheat.' Basically, a man that ticks all the boxes even if it's hard to come by. For me, I'm saying, 'Oh, I am that kind of guy.' So, the idea of the song is of a perfect man in all aspects."
"Contour"
"This is probably my favorite song off the album or my favorite song ever. 'Contour' is a song about heartbreak and betrayal. A big shout-out to Tempoe for the production; he's an amazing producer. The storyline behind it is betrayal, because sometimes you are there for somebody and they just flip on you. The message is heavy, but it's still groovy."
"Wetin Be Love" (feat. CKay)
"This song was produced by Dëra. It goes back to the idea of spending money on the people that you love, because [people] are always on the love-for-loving's-sake wave. But for me, I think that love is sweet when there's money. I'm not saying that love can't exist without money, but love is just way more convenient when you have money. Every time CKay and I jump on a song, it's madness."
"Chicken, Spice & Curry" (feat. Ludacris)
"'Chicken, Spice & Curry' was recorded sometime [in 2022] when I was in my experimental phase. Last year, Ludacris and his family came to one of my tour stops in the US because his family are big fans of my music. I was supposed to see them after the show but they had to leave early. Then a couple of months back, Ludacris' management reaches out to my team and tells us that he was having a camp in Ghana. I made a couple of songs with him. In my head, I was looking to drop choruses and verses, I wasn't even looking to get him on the song, because I don't like to force vibes. We did a couple of songs that he really liked and they happened so fast. This was the first song I played for him. He liked it and he jumped on it immediately."
"Better" (feat. Tempoe)
"This song is probably one of the oldest songs off the album. But Tempoe has always been on my neck for years like, 'You are sleeping on this song.' I always try to put socially conscious music on my albums; this song talks about domestic abuse. I think it's a topic that we as artists need to visit because we have a platform, we have a voice, and a lot of people listen to us just because of the influence we have. So it's only right we say things that help people become better people in general."
"Sip (Alcohol)"
"This is a major smash hit and it's only right that it made the album. It was really madness. I feel like 'Sip' is still going to come back and cause craziness because it is one of the songs that just ticks all the boxes. Wonderful writing, a wonderful storyline, wonderful beat, and everybody can connect and relate to it."
"The Best for You" (feat. Kemena]
"I've been a fan of Kemena since 2020. I reached out to him to talk and we just connected. I feel like sometimes what every emerging artist needs is encouragement to keep them going. At one point, he was trying to get me on a song, but I was like, 'Yo, I feel it's better if I put you on a song, because that way it's going to help you.' That's my way to support and I feel like he's going to be one of the greatest."
"Halle"
"I recorded this song sometime last year. I was very sad, down, and confused. I feel like everybody has that phase, where you just don't know what the fuck is going on. 'Halle' is just me talking about my state of mind at that point and praying for myself. It's like a prayer and a prophetic declaration."
---
KAYTRAMINÉ: Aminé & KAYTRANADA
---
Summer Walker: CLEAR 2: SOFT LIFE - EP
The last time we heard new music from Summer Walker was in 2021 with her sophomore effort, Still Over It, which chronicled her messy and complicated relationship with Atlanta producer London On Da Track before, during, and after her pregnancy. The album's relatability, cohesiveness, and introspective lyrics made Still Over It a certified hit, giving Walker her first No. 1 album on the Billboard 200 chart. Since then, the singer-songwriter has been featured on tracks with Ari Lennox, Ciara, and The Weeknd, as well as expanding her family by welcoming a set of twins. "I'm really loving life right now, enjoying this new outlook on life, loving the new me, loving my kids and not letting life pass me by anymore," she writes in an exclusive statement to Apple Music.
Walker is in her soft-life era, which, according to social media, is a life free of struggle and stress and focuses more on joy and self-care. These ideals and themes are evident on Walker's latest EP CLEAR 2: SOFT LIFE, a follow-up in her CLEAR series, which she debuted in 2019. "The first one was kinda sad—all my music is sad—but I'm in a different space, so this one is more happy," she said. "It's a continuation in the sense of the music because it's all live."
Where Still Over It deals with the loss of a relationship and the emotions that come with a breakup, CLEAR 2: SOFT LIFE shows the singer-songwriter leaving those feelings of heartbreak and anxiety behind and embracing a life filled with ease. However, she still needs a reminder now and then. On the opener, "To Summer, From Cole (Audio Hug)," J. Cole reaffirms her by letting her know it's okay to take some time to clear her mind and forget the stresses from her fame. Summer tackles this newfound life that she's chosen for herself by not following the same patterns from her past relationships ("New Type") and quickly cuts ties with connections that no longer serve her ("How Does It Feel," "Pull Up," "Finding Peace").
On "Mind Yo Mouth," she finds the confidence to say what's on her mind, even if it bruises a man's ego: "Wanna be with me then you gon' get up off your bottom/Uh, wanna lay with me then you gon' be a real man," she swaggers. In true Summer fashion, she offers up introspective lyrics and reflects on her journey within her past relationships on the album closer, "Agayu's Revelation." On the Steve Lacy- and Solange-produced track, Summer talks about a realization she had during a conversation with her spiritual guide when she discovered that the partners she chooses are the reason her relationships fail: "They're fragile/Their egos are fragile/They're not quite ready to face themselves/Maybe now or ever." "Maferefun oya, Maferefun Oshun," Walker writes, with an intriguing kicker: "PS: album 3 soon."
---
Juice WRLD: Goodbye & Good Riddance (5 Year Anniversary Edition)
---
NxWorries, Anderson .Paak, Knxwledge "Daydreaming"