Release Day: Lil Durk, Kodak Black, Nonso Amadi, Choplife Soundsystem & Mr. Eazi, Jay Worthy & Roc Marciano, Diddy featuring City Girls and Fabolous, Asake, Adekunle Gold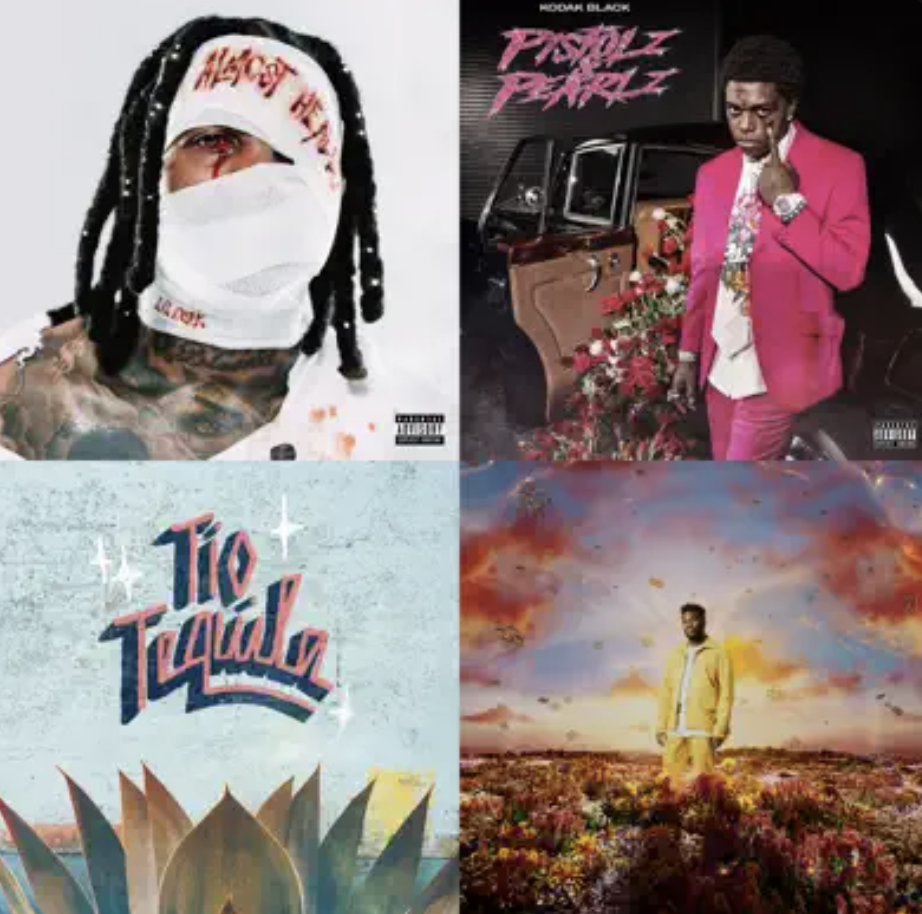 Lil Durk "Almost Healed"
Pain and tragedy have defined so much of Lil Durk's life and, by natural extension, his music. The devastating losses he's experienced since rising to hip-hop stardom from Chicago's once nascent drill scene compound one another, to the point where even something as common as rap beef takes on a more ominous tone. With Almost Healed, he memorializes the deaths of his brother DThang and friend King Von with therapeutic catharsis on his mind. After the introductory framing device by no less than Alicia Keys, the revelations and anecdotes behind "Pelle Coat" and "Never Again" contribute to what hopefully amounts to a healthy path through grief.
With high-profile guests like Kodak Black and Morgan Wallen in the mix, the universality of life's trials and tribulations becomes clearer. When 21 Savage comes through for "War Bout It," the lure of violence becomes more prominent. Similarly, seasoned hitmakers J. Cole and Future bring big energy to "All My Life" and "Never Imagined," respectively, without departing too radically from the surrounding themes. Yet Durk doesn't dwell entirely on morbid subjects, addressing the comparatively lighter cruelty of a bad romance on "Dru Hill" and "Sad Songs."
---
Kodak Black "Pistolz & Pearlz"
For nearly a decade now, Kodak Black has navigated the rap game with no shortage of highs and lows. Still, the post-incarceration wins of "Super Gremlin" and the 2022 album Back for Everything put the controversial yet exceedingly popular Florida rapper back in a position of prominence. So, for Pistolz & Pearlz, an apparent finale for his longtime major-label home base of Atlantic Records, he delivers a characteristically strong effort that speaks to his past as much as his future.
He shrewdly frontloads the project with features from Sniper Gang associates like GorditoFlo and Vvsnce, giving some deserved shine to the artists currently riding with him. But after the booming trio cut "Dirt McGerk," with EST Gee & Lil Crix, he largely places the focus back on himself for the duration. Whether expressing an ice-cold worldview on "Murder Mystery" or sing-rapping about loyalty and love on "Follow Me," his consistency stays undeniably on display. On the piano-led trap ballad "No Love for a Thug," an album highlight, he opens up about loneliness and feeling emotionally adrift in ways rarely heard in hip-hop.
---
Nonso Amadi "When it Blooms"
About When it Blooms
Seven years after his breakout single, 2016's "Tonight," placed Nonso Amadi at the helm of the group of producer-singers poised to revolutionize Afropop, the Nigerian singer still remains something of a mystery. A series of curated drops and extended breaks from most social media platforms have ensured that the mystique around the Canada-based artist remains as ever-present as the warmth of his music. Amadi's debut album When It Blooms—a return from two years of radio silence—is a chance for him to belatedly tell his story, and it's an opportunity he takes with glee.
"I want [this to feel] like a reintroduction to Nonso Amadi," he tells Apple Music. "As much as there are a lot of people that know who I am in Nigeria, from 'Tonight,' 'Radio,' and 'No Crime,' I feel like those songs just give you a taste of the music of Nonso, but not really who he is as a person. So, we wanted the album to be a starter pack to Nonso fans wherever they are, and then follow up with that."
A lot of the inspiration for this candid, 15-song dispatch on the singer's life comes from certified classics like Wizkid's Superstar and Drake's Take Care. "I feel like those projects are good introductions [to both singers], and I wanted to do that as well," he says. On When It Blooms, Amadi brings his childhood stunningly to life, reflecting the tensions of a singer trying to find his place in the world, and the journey towards finding acceptance. Read on as the singer-songwriter runs us through key tracks from his album.
"Here for It (Intro)"
"It's a song about me at the start of my journey. It's a more insecure, confused Nonso that's still figuring out his way. But I kept on telling myself, 'I'm here for it.' There's a little spoken word towards the end, [of] those trying thoughts [that are] really tough to hear. It starts almost like a movie, with the strings being so provocative, and then the spoken word coming in to add elements of drama. We wanted to have a theatrical feel to the project."
"Kilimanjaro" (feat. Beam)
"We made ['Kilimanjaro'] in Cotonou, Republic of Benin, with Dera who produces for Joeboy and a lot of the emPawa guys. I remember making the song and feeling like, 'Oh, this is very serene. It feels like how beautiful Cotonou is.' There's a lot of trees, it's very calm out there. Beam came and his flow really, really matched well for this song. I think his verse is phenomenal. It's for the girls. It's a very smooth track."
"Lock Up" (feat. Zinoleesky)
"I'll say this one is Afropop because it is uptempo. I was listening to Rema a lot at the time and just taking from the energy of his tracks. I made this in 2018. Fast-forward to 2022, Zino's team heard it and they really liked it. 'Lock Up' talks about liking a girl and you're telling her boyfriend to pretty much shut up, or 'lock up.' And then Zino's on the track to back me up, in case we needed to fight or whatever. It's a fun track."
"Foreigner"
"'Foreigner' was my first song [after] coming back from a two-year break. It talks about liking a girl who is not from the same place you are from, and you're super infatuated with her. However, I do add in the fact that I have been away for two years on the song. I kind of talk about music and about the girl at the same time. It's very interesting to break it down."
"How Love Works (Interlude)"
"'How Love Works' is one of the deeper tracks on the record. It just is the truth about love in a lot of relationships and a lot of situations: the relationship between your [parents], between you and your parents, and God and you. It's like, 'Whatever you are going through, I will be there with you.' That's how love is meant to work. It sounds like a message from God to me, and that light is coming in slowly into the flower that's meant to be blooming."
"Nights in Maryland"
"This one is like I'm going back to the first studio around where I lived in Ikeja, a studio in Maryland. It's basically me standing outside that studio and calling a babe like, 'Yo, what's up? I'm in Maryland, I'm at the junction. Can you see me?' I'm going back to my younger years where I was sneaking out to record music and I'm like, 'Omo I dey for Maryland, let me know when you're nearby.' When I was making the song, I was inspired by Burna Boy's 'Ye'—all that kind of dancehall."
"Shivers" (feat. Tamera)
"This one takes me back to making 'No Crime' and 'Tonight.' Tamera killed it. We're talking about the dreams of doing a show at The O2 [in London] and being lonely as a kid in Nigeria. I'm remembering all those primary school days where you're like, 'I need friends,' all that stuff. But now you are somewhere where you can get friends if you need friends, and that's not the thing that bothers you—you're fine with just your family and the people that you love around you. Then Tamera says something that's so important: 'Don't run when the rain starts falling/If you wanna grow…/Don't run from the dark clouds,' which is so deep."
"Paper"
"'Paper' was produced by London; he's phenomenal. I love to talk about my inspirations because it gives me a moment to appreciate people who've done this before me. So the voice, the way I'm singing on that is inspired by Amaarae. I really love her stuff. But the melody, that's kind of inspired by Niniola and her 'Maradona' flow."
"Ease Up"
"How can we make an album that talks about my story in Nigeria and not include a song that speaks to the craziness and the madness in Lagos, with our politicians and all our leaders [who] are not doing right by us? The song is true to the struggle of the Nigerian youth. We work so hard, we do what we have to do, but it's tough to just chill and relax. It's tough because there's no lights, no water, and there's traffic. 'Ease Up' talks about wanting to relax. A lot of people just want to have that moment to ease up and chill and enjoy their lives."
"Cali Was the Mission"
"'Cali Was the Mission' is almost like the American dream for Nigerians, or American dream for Africans, because a lot of young creators and musicians want to be out in LA, receiving awards. We want to be going to the Grammys, going to the BETs or whatever. That's the goal. Right now, my mindset has shifted from just chasing awards. But it was, for a very long time, a huge goal of mine. This was written with Rowlene, who's an amazing artist from South Africa."
"Thankful"
"In this song, the flower is completely bloomed. The flower is open, the petals are beautiful to look at. We've been through that journey talked about on 'Here for It.' There's a spoken word on 'Night in Maryland' by Donisha [Prendergast], where she's encouraging me and telling me, 'Nonso, this is your thing, you got to push through.' I'm at this point where I'm just thankful to be here because not a lot of people have been able to make it this far, to be able to have such a huge label behind me. My mom is on this track, and she talks about my journey and seeing me bloom. It really gets me emotional whenever I hear that voicemail from her, because I know how they struggled with taking me [seriously] as a musician because they spent so much on [my] engineering degree."
---
Choplife Soundsystem, Mr. Eazi "Chop Life,  Vol 1: Mzansi Chronicles"
About Chop Life, Vol 1: Mzansi Chronicles
Consisting of artist Mr Eazi and Afrobeats selector DJ Edu, ChopLife SoundSystem aims to capture trending sounds from specific regions across the African continent. "I'm maintaining the freedom I've always had," Mr Eazi tells Apple Music. "Being able to transpose myself from one city to another." Traveling the southerly route in the first installment of the Chop Life series, Mzansi Chronicles heroes amapiano while tapping into the richness of South African dance music by folding in elements of tribal, big room, and deep house.

"Mzansi Chronicles is an ode to the amapiano sound that has been the soundtrack to my parties and me going to clubs." Mr Eazi says. "It's me working with some of my favorite artists and capturing my interpretation of elements I love from the scene." Enmeshing himself in the amapiano world, Mr Eazi positions himself as both creator and curator of these enjoyment-driven rhythms. "This is the part of the music I presently love the most—which is curating experiences and DJ mixes," he says. "I believe African music is going to get to the point where it's not just [about] the artist, but it's the music and the total experience."
The genre's leading artists and producers inform the sonic direction of this compilation, with Focalistic, Joey B, Ami Faku, 2woshort, ANATII, Stompiiey, Nkosazana Daughter, Aymos and Moonchild Sanelly adding their twist to soundscapes shaped by DJ Tárico, LuuDaDeejay, Type A, Milan Rendall, Soul Jam, Mellow & Sleazy, Mathondos and Ghetto Boy. "That's the entire idea behind ChopLife SoundSystem," Mr Eazi reveals. "I can collaborate with as many different artists and producers, executive produce and present it to the world."
---
Jay Worthy, Roc Marciano "Nothing Bigger Than The Program"
---
Diddy, City Girls, Fabolous "Act Bad" Single
---
Asake, Olamide "Amapiano" Single
---
Adekunle Gold "Tio Tequila"