Release Day: Young Thug, Coi Leray, Camidoh, Big Freedia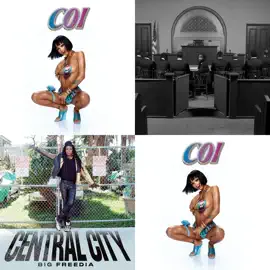 Uristocrat June 23 Release Day Playlist
Young Thug "BUSINESS IS BUSINESS"
---
Coi Leray "COI"
About COI
Coi Leray has been the topic of conversation since she popped on the scene with her 2021 remix hit "No More Parties" featuring Lil Durk, which became a staple on playlists and radio alike. Whether it's about her freestyling skills, her body, or her lyrical prowess, her critics always had something to say, questioning whether the New Jersey rapper's career was built on viral TikTok hits or if she had longevity in the rap game. Coi channeled those comments into her 2022 debut album Trendsetter, where she addressed her naysayers and skeptics. However, on her self-titled sophomore LP, she's ready to put everything behind her and show the world why she's here to stay.
"So, this journey, I feel like even just self-titling it COI, I want people to understand everything that is just about me," she tells Apple Music's Ebro Darden. "I feel like I have to tap every subject. I go through so much, I always write through experience." On the album opener, "Bitch Girl," Leray invites listeners into her world, where she boasts about her successes and how nothing will stop her upward trajectory in the music scene. "Wanna know my next move? Just know it's a chess move/They be sending threats but I can't hear you on the jet, boo," she swaggers over a pitched-down sample of the 1977 Hall & Oates classic "Rich Girl."
Leray levels up from her debut both lyrically and sonically, with artists Saucy Santana, Lola Brooke, Skillibeng, Giggs, and David Guetta joining her. Across the album's 16 tracks, Coi delivers melodic verses over a multitude of genres, from rap ("No Angels," "Bops," "Phuck It") to rock ("Black Rose") to pop ("On My Way," "My Body," "Get Loud"), reggae ("Radioactive"), and dance ("Make My Day"). Although COI is filled with primarily bouncy, energetic beats and carefree, boastful bars, Leray gets vulnerable on closing track "Come and Go," where she throws away her cool-girl persona and ruminates on who within her circle is loyal to her.
On the diary-like song "Man's World," Leray details her tumultuous relationship with her father and fellow rapper Benzino over a sample of the James Brown hit "It's a Man's, Man's, Man's World." "I get very vulnerable, I feel like," she says. "I wouldn't say it's a letter to my dad, but it's more like an open journal. And just instead of social media and things like that, it's about putting it in the music. I mastered telling my truth without hurting anybody and being able to just still be very positive while doing it. Yeah, it's not easy. But the first step is forgiving. And I had to forgive my father regardless of what we've been through."
---
Camidoh "L.I.T.A. (Deluxe)"
---
Big Freedia "Central City"
About Central City
In the near-decade since Big Freedia last dropped a new album, her influence on music has only grown. The world felt the presence of the Queen Diva on hit singles by Beyoncé, Drake, and Kesha, while many saw her guest on must-see TV shows like RuPaul's Drag Race All Stars. With the vibrant Central City, she reclaims control of her beloved New Orleans bounce while bringing some incredible features from Faith Evans and Lil Wayne into her fabulous musical world.
Kelly Price brings a throwback chorus to the poppy "Motivate Ya," while Kamaiyah gives in to the signature Mannie Fresh vibes of "Big Tyme." Ciara fans will definitely gravitate to "$100 Bill," which transitions from its sleek R&B beginning into a signature club groove. Naturally, Freedia shines all on her own without her impressive guest list, getting the crowd sweaty and hype with the booming cuts "Central City Freestyle" and "Booty Like a Drummer."