Tuesday Notes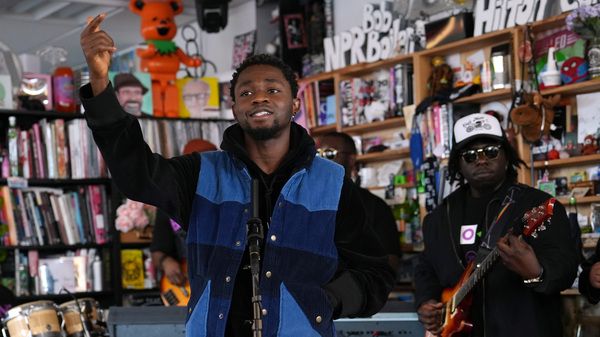 Music: Omah Lay: Tiny Desk Concert
Omah Lay brought a calm demeanor and a bright smile to his time at NPR headquarters. By the third song of his Tiny Desk concert, "soso," I realized that the Nigerian star was exercising lots of emotions through this set. The first two titles, "Bad Influence" and "i'm a mess," are self-explanatory, yet the message of "soso" — that he's yearning for something to take his pain away — could get lost in the song's upbeat rhythms. At any rate, Omah Lay's performance showcases a songwriter grappling with all the feels, unafraid to share them with the world.
Technology: Serena Ventures backs SoLo Funds as finance platform tops 1M registered users
SoLo Funds has acquired over 1 million registered users and over 1.3 million downloads to make it "the largest and first Black-owned personal finance platform" to do so, Rodney Williams, co-founder and president of SoLo, told TechCrunch.
New York City: Proposed salary boosts would do little to help struggling EMTs, labor leaders say
One group of labor leaders isn't cheering Mayor Eric Adams' recent contract deal with municipal workers: the heads of the two unions representing thousands ofemergency medical technicians and paramedics.
A proposed boost to the minimum wage for city employees to $18, up from the current $15, would mean that many of these front-line emergency workers would end up near the very bottom of the city pay scale unless they get a long-sought-after raise.
New York City: NYC road sign is spelled 'Jakie' Robinson
New York City's Department of Transportation swung and missed with a road sign for the Jackie Robinson Parkway that spelled the baseball Hall of Famer's first name as "Jakie."
The sign spotted Sunday in Queens featured a picture of Robinson, Major League Baseball's first African American player in the modern era, over the words "Jakie Robinson Parkway."
Nigeria: The latest on Nigeria's 2023 Presidential Election  
On Saturday 25 February, 2023 Nigeria held its pivotal presidential election, but today, the after effects are still being felt nationwide. With over ninety million registered voters, the elections this year were a welcome uptick in numbers compared to the 84 million voters of the 2019 elections. As with elections from previous years, there are still issues of election rigging and violence, and with the gubernatorial elections two weeks away, there are no indications that the collation will reach a fair conclusion anytime soon.
Fashion: Kith Spring 2023, Delivery I Editorial
Sports: What the NBA Can Learn From Formula 1