UnitedMasters SelectCon featuring Davido, Tokischa, EARTHGANG and more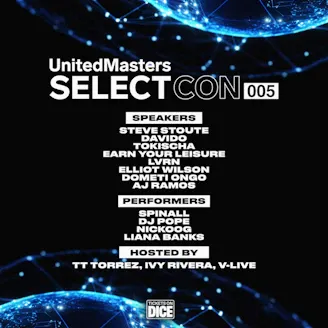 Calling all creators, UnitedMasters' groundbreaking creator conference is back. Independence is a global phenomenon, and we want to make sure you're in position to take advantage of all the opportunities that it brings. Gather for a day of panels, workshops, and performances with leading independent artists, innovators, and trailblazers from around the world.
Speakers and performers include: Steve Stoute, Davido, Tokischa, Earn Your Leisure, LVRN, SPINALL, DJ Pope, Nickoog, Liana Banks, Elliott Wilson, TT Torrez, Ivy Rivera, AJ Ramos, Dometi, and more.
https://dice.fm/partner/sc005/event/qvy9a-selectcon-005-14th-oct-terminal-5-new-york-tickets
By purchasing a ticket to Selectcon005, you agree to the UnitedMasters Terms of Service (https://unitedmasters.com/en/terms) and Privacy Policy (https://unitedmasters.com/en/privacy).